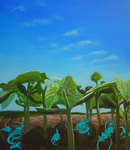 garden pattern
2013-ongoing
Plants, animals and insects are drawn from observation and magnified photography. They are combined with patterns inspired by subtle sounds, aromas and movement, as well as a multitude of unanswered questions about the dynamics of growth and weather.
---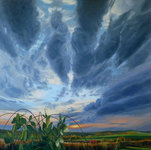 garden sublime
2011-ongoing
The awe-inspiring grandeur of valley views are seen from multiple perspectives including the low, intimate perspective of the gardener at work.
---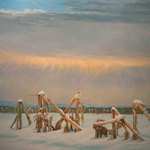 winter corn
2009-2010
The qualities of austere beauty and poetic melancholy are natural features of the Central New York landscape. The corn rows and accidental crop structures are reminiscent of the raked dry gardens of Japan.
---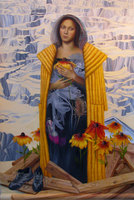 scroll paintings
2006-2009
The scroll paintings are painted in flexible oils on canvas and are mounted with a lower rolling bar and upper support, reminiscent of the Asian tradition of scrolled ink paintings.